Cookie-Einstellungen
Diese Website benutzt Cookies, die für den technischen Betrieb der Website erforderlich sind und stets gesetzt werden. Andere Cookies, die den Komfort bei Benutzung dieser Website erhöhen, der Direktwerbung dienen oder die Interaktion mit anderen Websites und sozialen Netzwerken vereinfachen sollen, werden nur mit Ihrer Zustimmung gesetzt.
KON.D800
650 g
Puska
OP 1
Należy przestrzegać wszystkich wskazówek zawartych w kartach charakterystyki i kartach technicznych.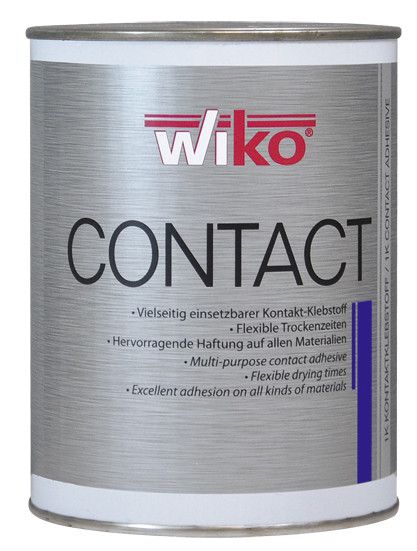 WIKO CONTACT to uniwersalny klej kontaktowy o doskonałej przyczepności na wielu materiałach....
węcej
WIKO CONTACT to uniwersalny klej kontaktowy o doskonałej przyczepności na wielu materiałach. Klej WIKO CONTACT znajduje uniwersalne zastosowanie również w technice ortopedycznej (do skóry, gumy i wielu innych materiałów).
Właściwości
Elastyczny czas otwarcia
Bez fenolu i toluenu
Niski nacisk wymagany do połączenia
Krótki czas prasowania po odparowaniu
Odporność na temperaturę w zakresie od -40 °C do +110 °C
Łatwe do rozprowadzenia
Nie nadaje się do polipropylenu, polietylenu, polistyrenu i miękkiego PVC
Obszary zastosowań
zastosowanie na powlekanych tworzywach sztucznych
pewne klejenie różnych materiałów takich jak karton, łuki pokryte fornirem i gumą, pianka, drewno, sklejka, korek, filc, twarde PCW, skóra, beton i kamień, drewno i metal
Cechy produktu
| | |
| --- | --- |
| Rodzaj: | Kleje |
| Podłoża: | Drewno, Guma / Elastomery, Metale, Tworzywa sztuczne, Kamien, Kompozyty / GFK |
| Odporność na działanie temperatury: | Do 100 |
| Przydatność do użycia: | 12 miesięcy |
| Rodzaj połączenia: | Bez szczeliny (na styk) |
| Odporność: | Odporność na dzialanie wody, Odporność na dzialanie promieniowania UV |
| Czas otwarcia: | średni (5-15 min.) |
| Zawartość substancji niebezpiecznych: | Inne |
| Powierzchnia klejenia: | Punktowa, Powierzchniowa |
| Rodzaj użytkownika: | Prywatny użytkownik końcowy, Użytkownik profesjonalny/ personel specjalistyczny |
Karty katalogowe
Po kliknięciu na jeden z poniższych linków, zostaniesz przekierowany do zewnętrznej strony ofertowej www.sumdat.net, dzięki której będziesz mógł skorzystać z obszernej bazy danych medialnych.