Cookie-Einstellungen
Diese Website benutzt Cookies, die für den technischen Betrieb der Website erforderlich sind und stets gesetzt werden. Andere Cookies, die den Komfort bei Benutzung dieser Website erhöhen, der Direktwerbung dienen oder die Interaktion mit anderen Websites und sozialen Netzwerken vereinfachen sollen, werden nur mit Ihrer Zustimmung gesetzt.
Należy przestrzegać wszystkich wskazówek zawartych w kartach charakterystyki i kartach technicznych.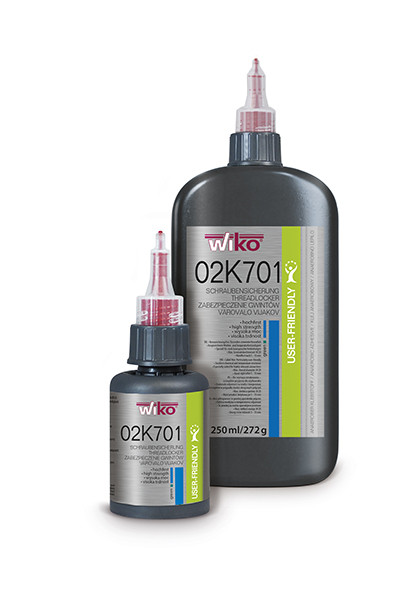 WIKO 02K701UF to uniwersalny środek zabezpieczający do gwintów o wysokiej wytrzymałości,...
węcej
WIKO 02K701UF to uniwersalny środek zabezpieczający do gwintów o wysokiej wytrzymałości, przeznaczony do mocowania i uszczelniania elementów z metali.
Utwardzanie produktu (polimeryzacja) odbywa się w warunkach beztlenowych (anaerobowych) pod wpływem katalitycznego działania metalu (styku z metalem). Do mocowania gwintów w stanie dostawy, nawet z niewielkimi zanieczyszczeniami.
Mocuje zespórki oraz łożyska kulkowe i toczne, które w normalnych warunkach nigdy nie są demontowane.
Nadaje się doskonale do mocno obciążonych połączeń śrubowych.
Produkt ten charakteryzuje się podwyższoną odpornością na działanie oleju.
W odróżnieniud od konwencjonalnych klejów anaerobowych, produkty z serii GREEN LINE nie zawierają składników wymagających symboli ostrzegawczych na etykietach. Oprócz wydłużonego okresu trwałości, wynoszącego 24 (zamiast 12) miesięcy, oferują one użytkownikowi lepszą stabilność podczas przechowywania oraz zwiększoną odporność temperaturową do +180° C podczas użytkowania.
Właściwości
do zabezpieczania gwintów śrub / nie wymaga oczyszczenia lekko tłustych powierzchni
specjalnie przeznaczony do mocno obciążonych połączeń, np. śrub dwustronnych czy łożysk tocznych – dla których nie przewiduje się już demontażu
max. średnica gwintu: M20
wytrzymałość dotykowa po ok. 5 - 15 minutach
odporność temperaturowa: -55 °C do +180 °C
Cechy produktu
| | |
| --- | --- |
| Rodzaj: | Kleje |
| Konfigurowalność: | Nie konfigurowalny |
| Podłoża: | Metale |
| Odporność na działanie temperatury: | Do 180 |
| Przydatność do użycia: | 24 miesięcy |
| Rodzaj połączenia: | Wypełnienie szczeliny |
| Odporność: | Odporność na dzialanie wody, Odporność na dzialanie kwasów, Odporność na dzialanie promieniowania UV, Odporność na dzialanie olejów, Odporność na dzialanie rozpuszczalników |
| Czas otwarcia: | średni (5-15 min.) |
| Zawartość substancji niebezpiecznych: | GREEN LINE, Nie zawiera |
| Powierzchnia klejenia: | Powierzchniowa |
| Rodzaj użytkownika: | Prywatny użytkownik końcowy, Użytkownik profesjonalny/ personel specjalistyczny |
Karty katalogowe
Po kliknięciu na jeden z poniższych linków, zostaniesz przekierowany do zewnętrznej strony ofertowej www.sumdat.net, dzięki której będziesz mógł skorzystać z obszernej bazy danych medialnych.