Cookie-Einstellungen
Diese Website benutzt Cookies, die für den technischen Betrieb der Website erforderlich sind und stets gesetzt werden. Andere Cookies, die den Komfort bei Benutzung dieser Website erhöhen, der Direktwerbung dienen oder die Interaktion mit anderen Websites und sozialen Netzwerken vereinfachen sollen, werden nur mit Ihrer Zustimmung gesetzt.
MS POLIMER NATRYSKOWY OCHRA
MSPSO.K310
310 ml
Kartusz
OP 12
Należy przestrzegać wszystkich wskazówek zawartych w kartach charakterystyki i kartach technicznych.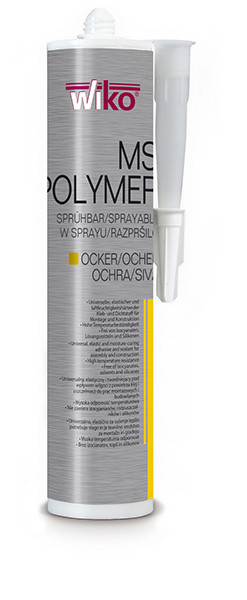 Klej natryskowy WIKOMS POLIMER NATRYSKOWY OCHRA to produkt wielofunkcyjny, przeznaczony do...
węcej
Klej natryskowy WIKOMS POLIMER NATRYSKOWY OCHRA to produkt wielofunkcyjny, przeznaczony do zastosowania do przemysłowej produkcji samochodów oraz rzemieślniczej naprawy samochodów i nadwozi, w sektorze morskim, w technice wentylacyjnej, klimatyzacyjnej i elektrotechnice oraz w technice budowy urządzeń. Klej natryskowy WIKO MS POLIMER nadaje się również do stosowania w przemyśle przetwórczym metali i blach oraz innych obszarach techniki przetwórstwa tworzyw sztucznych. Ten uniwersalny, elastyczny i utwardzający się w warunkach wilgotnych klej i środek uszczelniający charakteryzuje niewielka kurczliwość objętościowa i neutralny zapach. Klej nie tworzy pęcherzy. Klej i środek uszczelniający można lakierować metodą "mokre na mokrym". Elastyczny klej i środek uszczelniający do uszczelniania spoin i prac montażowych.
Właściwości
Nadaje się do zastosowania wewnętrznego i zewnętrznego
Trwale elastyczny
Nie zawiera izocyjanianów, rozpuszczalników i silikonów
Uszczelnianie cienkowarstwowe
Wysoka odporność temperaturowa
Szeroki zakres przyczepności również bez gruntowania
Dobra trwałość
Pochłania wibracje akustyczne i mechaniczne
Chroni przed korozją
Odporność na działanie czynników atmosferycznych
Cechy produktu
| | |
| --- | --- |
| Rodzaj: | Kleje, Uszczelniacz |
| Konfigurowalność: | Nie konfigurowalny |
| Podłoża: | Drewno, Guma / Elastomery, Metale, Tworzywa sztuczne, Kamien, Kompozyty / GFK |
| Rodzaj połączenia: | Wypełnienie szczeliny |
| Odporność: | Odporność na dzialanie wody, Odporność na dzialanie promieniowania UV |
| Czas otwarcia: | średni (5-15 min.) |
| Zawartość substancji niebezpiecznych: | Nie zawiera |
| Powierzchnia klejenia: | Punktowa, Niewielka, Powierzchniowa |
| Rodzaj użytkownika: | Prywatny użytkownik końcowy, Użytkownik profesjonalny/ personel specjalistyczny |
Karty katalogowe
Po kliknięciu na jeden z poniższych linków, zostaniesz przekierowany do zewnętrznej strony ofertowej www.sumdat.net, dzięki której będziesz mógł skorzystać z obszernej bazy danych medialnych.