Cookie-Einstellungen
Diese Website benutzt Cookies, die für den technischen Betrieb der Website erforderlich sind und stets gesetzt werden. Andere Cookies, die den Komfort bei Benutzung dieser Website erhöhen, der Direktwerbung dienen oder die Interaktion mit anderen Websites und sozialen Netzwerken vereinfachen sollen, werden nur mit Ihrer Zustimmung gesetzt.
Należy przestrzegać wszystkich wskazówek zawartych w kartach charakterystyki i kartach technicznych.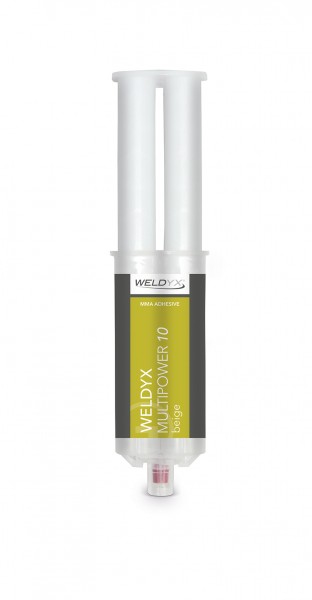 WELDYX MULTI POWER 10 BEIGE to dwuskładnikowy klej na bazie metakrylanu o proporcji...
węcej
WELDYX MULTI POWER 10 BEIGE to dwuskładnikowy klej na bazie metakrylanu o proporcji mieszania 1:1, służący do wykonywania strukturalnych połączeń klejonych o wysokiej wytrzymałości. Ponieważ przywiera do bardzo różnych materiałów, produkt ten nadaje się do klejenia szerokiej gamy kompozytów, tworzyw sztucznych i metali bez konieczności ich gruntowania i obróbki wstępnej powierzchni.
Ponadto, WELDYX MULTI POWER po zakończeniu reakcji zapewnia doskonałą odporność na uderzenia, łuszczenie, nacisk i zmęczenie materiału, dzięki czemu spełnia kompleksowe wymagania. WELDYX MULTI POWER oferowany jest w dwóch wersjach o różnym czasie otwartym:
4-7 minut oraz 10-20 minut.
Właściwość
Połączenia klejone o wysokiej wydajności różnych materiałów
Kolor: beżowy
Odporny na uderzenia i łuszczenie
Nadaje się doskonale do obróbki wykańczającej
Szybko osiąga swoje właściwości mechaniczne, dzięki czemu umożliwia szybkie przetwarzanie klejonych elementów
Doskonała odporność na wpływy środowiskowe
Wysoka wytrzymałość na ścinanie przy rozciąganiu, nawet w przypadku metali nieobrabianych
Brak konieczności stosowania podkładów i szlifowania powierzchni klejonych
Dopasowany kolorystycznie do różnych podłoży
Cechy produktu
| | |
| --- | --- |
| Rodzaj: | Kleje |
| Podłoża: | Drewno, Guma / Elastomery, Metale, Tworzywa sztuczne, Kompozyty / GFK |
| Odporność na działanie temperatury: | Do 100 |
| Przydatność do użycia: | 9 miesięcy |
| Rodzaj połączenia: | Wypełnienie szczeliny |
| Odporność: | Odporność na dzialanie wody, Odporność na dzialanie kwasów, Odporność na dzialanie promieniowania UV, Odporność na dzialanie olejów |
| Czas otwarcia: | Długi (>15 min.) |
| Zawartość substancji niebezpiecznych: | Inne |
| Powierzchnia klejenia: | Punktowa, Niewielka, Powierzchniowa |
| Rodzaj użytkownika: | Użytkownik profesjonalny/ personel specjalistyczny |
Karty katalogowe
Po kliknięciu na jeden z poniższych linków, zostaniesz przekierowany do zewnętrznej strony ofertowej www.sumdat.net, dzięki której będziesz mógł skorzystać z obszernej bazy danych medialnych.