Cookie-Einstellungen
Diese Website benutzt Cookies, die für den technischen Betrieb der Website erforderlich sind und stets gesetzt werden. Andere Cookies, die den Komfort bei Benutzung dieser Website erhöhen, der Direktwerbung dienen oder die Interaktion mit anderen Websites und sozialen Netzwerken vereinfachen sollen, werden nur mit Ihrer Zustimmung gesetzt.
Należy przestrzegać wszystkich wskazówek zawartych w kartach charakterystyki i kartach technicznych.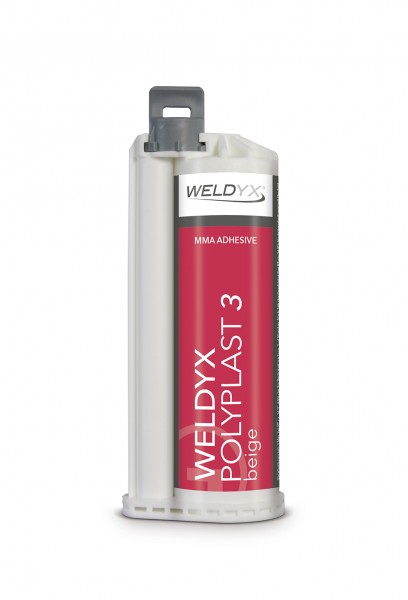 WELDYX POLYPLAST 3 to strukturalny i bezrozpuszczalnikowy klej specjalny o dużej udarności,...
węcej
WELDYX POLYPLAST 3 to strukturalny i bezrozpuszczalnikowy klej specjalny o dużej udarności, przeznaczony do klejenia niskoenergetycznych tworzyw sztucznych oraz powierzchni trudnych.
Nadaje się do klejenia polipropylenu (PP), polietylenu (PE), TPE lub kauczuku etylenowo-propylenowego (EPDM), a także metali, tworzyw sztucznych takich jak ABS, twardy PVC, PC, PMMA, a także szkła i drewna. WELDYX POLYPLAST 3 charakteryzuje się doskonałą odpornością
na działanie wilgoci i mediów.
Właściwość
Dwuskładnikowy system hybrydowy na bazie akrylanów
Kolor: beżowy
Łatwy w aplikacji i komfortowy w użyciu dzięki niskiej lepkości
Doskonała odporność na wilgoć i media
Nadaje się znakomicie do materiałów o różnych współczynnikach rozszerzalności cieplnej
Łatwa aplikacja nawet na nierównych powierzchniach
Umożliwia uzyskanie trwałych połączeń klejonych nawet w trudnych warunkach aplikacji
Czas otwarty 2 - 3 min
Z rozpórkami dystansowymi (Szklane koraliki)
Lekki, bezwonny, nie zawiera metali ciężkich i zmiękczaczy
Cechy produktu
| | |
| --- | --- |
| Rodzaj: | Kleje |
| Konfigurowalność: | Nie konfigurowalny |
| Podłoża: | Drewno, Guma / Elastomery, Metale, Tworzywa sztuczne, Kamien, Szkło, Kompozyty / GFK |
| Odporność na działanie temperatury: | Do 80 |
| Przydatność do użycia: | 12 miesięcy |
| Rodzaj połączenia: | Wypełnienie szczeliny |
| Odporność: | Odporność na dzialanie wody, Odporność na dzialanie kwasów, Odporność na dzialanie promieniowania UV, Odporność na dzialanie olejów, Odporność na dzialanie rozpuszczalników |
| Czas otwarcia: | Krótki (do 5 min.) |
| Zawartość substancji niebezpiecznych: | Inne |
| Powierzchnia klejenia: | Punktowa, Niewielka, Powierzchniowa |
| Rodzaj użytkownika: | Użytkownik profesjonalny/ personel specjalistyczny |
Karty katalogowe
Po kliknięciu na jeden z poniższych linków, zostaniesz przekierowany do zewnętrznej strony ofertowej www.sumdat.net, dzięki której będziesz mógł skorzystać z obszernej bazy danych medialnych.