Cookie-Einstellungen
Diese Website benutzt Cookies, die für den technischen Betrieb der Website erforderlich sind und stets gesetzt werden. Andere Cookies, die den Komfort bei Benutzung dieser Website erhöhen, der Direktwerbung dienen oder die Interaktion mit anderen Websites und sozialen Netzwerken vereinfachen sollen, werden nur mit Ihrer Zustimmung gesetzt.
Należy przestrzegać wszystkich wskazówek zawartych w kartach charakterystyki i kartach technicznych.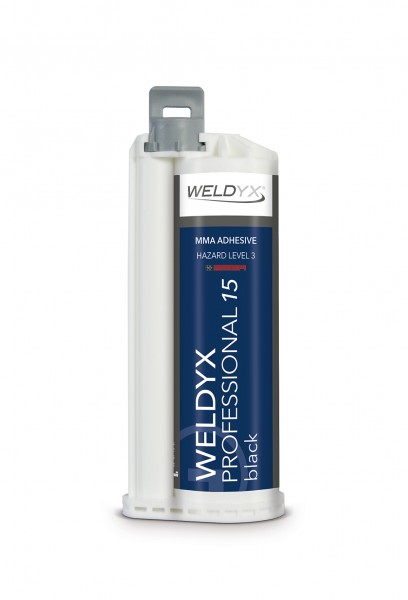 WELDYX PROFESSIONAL CZARNY to klej o wysokiej wytrzymałości, opracowany specjalnie do...
węcej
WELDYX PROFESSIONAL CZARNY to klej o wysokiej wytrzymałości, opracowany specjalnie do wykonywania strukturalnych połączeń klejonych metali, materiałów kompozytowych i tworzyw sztucznych, dostępny w wersjach o czasie otwartym 5 i 15 minut. Ten dwuskładnikowy klej na bazie metakrylanu metylu, mieszany w proporcji 10:1, pozwala uzyskać mocne, elastyczne i wytrzymałe połączenia klejone.
Właściwości produktu zostały odpowiednio dobrane, tak aby spełniać wymagania branży kolejowej, pojazdów użytkowych, żeglugi i transportu. Dzięki badaniom zgodnie z normą DIN EN 45545-2/R1 i spełnieniu wymagań dla poziomu zagrożenia HL 3 klej WELDYX PROFESSIONAL CZARNY spełnia wymagania stawiane pojazdom szynowym o wysokiej klasie zagrożenia. Certyfikat potwierdzający dopuszczenie do kontaktu z żywnością ISEGA potwierdza, że klej WELDYX PROFESSIONAL CZARNY może być stosowany do klejenia elementów z tworzyw sztucznych i metali, które mają kontakt z żywnością. Dzięki swojej elastyczności umożliwia strukturalne klejenie materiałów o różnych współczynnikach rozszerzalności cieplnej. W porównaniu z innymi klejami WELDYX PROFESSIONAL wyróżnia się niską kurczliwością. Nie wymaga stosowania podkładu, co oszczędza czas i koszty.
Właściwości
Idealnie nadaje się do budowy karoserii, produkcji i napraw
Umożliwia uzyskanie trwałych połączeń klejonych nawet w trudnych warunkach aplikacji
Skleja i uszczelnia zewnętrzne i wewnętrzne komponenty pojazdów mechanicznych
Doskonała odporność na zmęczenie materiału, uderzenia i czynniki mechaniczne
Do zastosowań wymagających odporności ogniowej: aprobata
wytrzymałości przeciwpożarowej dla poziomu zagrożenia HL 3
ISEGA – CERTYFIKAT DOPUSZCZENIA DO KONTAKTU Z ŻYWNOŚCIĄ
Niska kurczliwość
Skutecznie wypełnia szczeliny (0,25 do 10 mm)
Ponadprzeciętne parametry wydłużenia (ok. 100 %)
Cechy produktu
| | |
| --- | --- |
| Rodzaj: | Kleje |
| Podłoża: | Drewno, Guma / Elastomery, Metale, Tworzywa sztuczne, Kamien, Szkło, Kompozyty / GFK |
| Odporność na działanie temperatury: | Do 120 |
| Przydatność do użycia: | 12 miesięcy |
| Rodzaj połączenia: | Wypełnienie szczeliny |
| Odporność: | Odporność na dzialanie wody, Odporność na dzialanie kwasów, Odporność na dzialanie promieniowania UV, Odporność na dzialanie olejów, Odporność na dzialanie rozpuszczalników |
| Czas otwarcia: | Długi (>15 min.) |
| Zawartość substancji niebezpiecznych: | Inne |
| Powierzchnia klejenia: | Punktowa, Niewielka, Powierzchniowa |
| Rodzaj użytkownika: | Użytkownik profesjonalny/ personel specjalistyczny |
Karty katalogowe
Po kliknięciu na jeden z poniższych linków, zostaniesz przekierowany do zewnętrznej strony ofertowej www.sumdat.net, dzięki której będziesz mógł skorzystać z obszernej bazy danych medialnych.