101276
MONT.K310
310 ml
Kartusz
OP 12
Należy przestrzegać wszystkich wskazówek zawartych w kartach charakterystyki i kartach technicznych.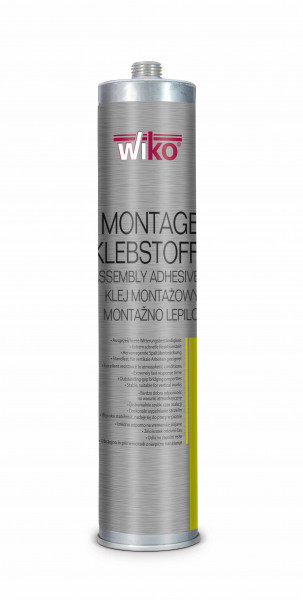 WIKO KLEJ MONTAŻOWY to jednoskładnikowy konstrukcyjny klej poliuretanowy. Wyróżnia go...
węcej
WIKO KLEJ MONTAŻOWY to jednoskładnikowy konstrukcyjny klej poliuretanowy. Wyróżnia go ekstremalnie szybki czas reakcji, doskonałe właściwości wypełniające oraz bardzo wysoka i trwała siła klejenia różnych materiałów. WIKO KLEJ MONTAŻOWY jest uniwersalnym, bezrozpuszczalnikowym klejem montażowym i naprawczym dla przemysłu budowlanego, montażowego i naprawczego.
Właściwości
Uniwersalne zastosowanie
Stabilny, bardzo dobrze nadaje się do pracy w pionie
Bezrozpuszczalnikowy
Kompatybilny z kamieniem naturalnym
Pęcznieje (pianki) podczas procesu ustawiania
Wspólne napełnianie
Szczególnie szybki czas reakcji
Szybkie i równomierne utwardzanie
Bardzo krótkie czasy prasowania
Dobra siła klejenia, wytrzymałość termiczna i odporność na warunki atmosferyczne
Może być pomalowany na wiele systemów kolorystycznych
Następnie można malować proszkowo (30 min/+200 °C)
Możliwość szlifowania w stanie utwardzonym
Cechy produktu
| | |
| --- | --- |
| Rodzaj: | Kleje, Uszczelniacz |
| Konfigurowalność: | Nie konfigurowalny |
| Podłoża: | Drewno, Guma / Elastomery, Metale, Tworzywa sztuczne, Kamien, Kompozyty / GFK |
| Odporność na działanie temperatury: | Do 200 |
| Przydatność do użycia: | 24 miesięcy |
| Rodzaj połączenia: | Wypełnienie szczeliny |
| Odporność: | Odporność na dzialanie wody, Odporność na dzialanie promieniowania UV |
| Czas otwarcia: | Krótki (do 5 min.) |
| Zawartość substancji niebezpiecznych: | Inne |
| Powierzchnia klejenia: | Punktowa, Powierzchniowa |
| Rodzaj użytkownika: | Prywatny użytkownik końcowy, Użytkownik profesjonalny/ personel specjalistyczny |
Pliki do pobrania
Po kliknięciu na jeden z poniższych linków, zostaniesz przekierowany do zewnętrznej strony ofertowej www.sumdat.net, dzięki której będziesz mógł skorzystać z obszernej bazy danych medialnych.