Please follow the instructions and notes in the safety data sheets and technical data sheets.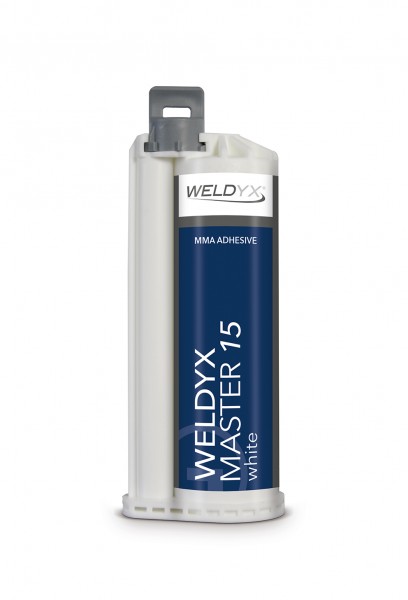 WELDYX MASTER WHITE is a high-performance adhesive for structural bonding of metals,...
more
WELDYX MASTER WHITE is a high-performance adhesive for structural bonding of metals, composites and plastics. This two-component methyl methacrylate adhesive, mixed in a 10:1 ratio, is available with processing time of 5, 10 and 15 minutes. WELDYX MASTER WHITE allows to achieve high-strength and at the same time flexible and highly resistant structural bonds.
Its properties are specifically adapted to the requirements of industrial companies. Due to its flexibility, even materials with different coefficients of thermal expansion can be successfully bonded. Compared to other adhesives, WELDYX MASTER WHITE is characterised with low shrinkage behaviour and is available with two reaction times which enable the user to achieve precise bonding within the desired time. The use of primers is not necessary which saves time and costs.
Properties
Ideal for vehicle construction, production and repair
Suitable for bonding materials with different thermal expansion coefficients
Bonding and sealing of interior and exterior vehicle components
Processing time 15 minutes
Low shrinkage behaviour
High gap filling capacity (0,25 to 15 mm)
Above-average elongation properties (approx. 100 %)
High final strength even without pre-treatment
No tracing of the gluing spot
No dripping on vertical surfaces
Excellent chemical resistance and temperature resistance
High dynamic resistance to impact and stress
Product features
| | |
| --- | --- |
| Type: | Adhesive |
| Configurability: | not configurable |
| Substrates: | Wood, Rubber / Elastomers, Metals, Plastics, Stone, Glass, Composite / GFK |
| Temperature Resistance (°C): | Up to 100 |
| Shelf Life: | 12 months |
| Adhesive Gap: | Gap-bridging |
| Consistency: | Water resistant, Acid resitant, UV-resistant, Oil resistant, Solvent resistant |
| Processing Time: | Slow (>15 min) |
| Labelling of hazardous substances: | Other |
| Adhesive Surface: | Selective, Small, Area |
| User: | Professional Users/Qualified Users |
Downloads
By clicking on one of the following download links, you will have access to an external offer of www.sumdat.net, with the help of which you will have access to an extensive media database.