Please follow the instructions and notes in the safety data sheets and technical data sheets.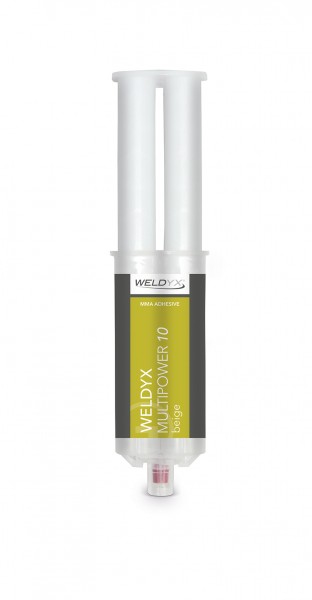 WELDYX MULTI POWER 10 BEIGE is a two-component methacrylate-based adhesive with a mixing ratio...
more
WELDYX MULTI POWER 10 BEIGE is a two-component methacrylate-based adhesive with a mixing ratio of 1:1, intended for high-strength structural bonding. Due to its broad adhesion spectrum, the product is suitable for bonding a wide range of plastics, composites and metals without the necessity of priming for surface pre-treatment.
In addition, after full cure, WELDYX MULTI POWER features an excellent resistance to impact, peeling, pressure and fatigue, making it possible to meet even complex requirements. WELDYX MULTI POWER comes in two versions with different processing times: 4-7 minutes and 10-20 minutes.
Properties
High-performance bonding of different materials
Colour: beige
High resistance to shocks and peeling
Excellent finishing properties
Fast formation of mechanical properties allows for quick processing of elements to be bonded
Excellent resistance to environmental factors
High tensile shear strength, even in case of untreated metals
No need for priming or grinding on a variety of surfaces
Appropriate colour compatibility with various substrates
Product features
| | |
| --- | --- |
| Type: | Adhesive |
| Configurability: | not configurable |
| Substrates: | Wood, Rubber / Elastomers, Metals, Plastics, Composite / GFK |
| Temperature Resistance (°C): | Up to 100 |
| Shelf Life: | 9 months |
| Adhesive Gap: | Gap-bridging |
| Consistency: | Water resistant, Acid resitant, UV-resistant, Oil resistant |
| Processing Time: | Slow (>15 min) |
| Labelling of hazardous substances: | Other |
| Adhesive Surface: | Selective, Small, Area |
| User: | Professional Users/Qualified Users |
Downloads
By clicking on one of the following download links, you will have access to an external offer of www.sumdat.net, with the help of which you will have access to an extensive media database.