MULTI POWER 1 TRANSPARENT
Please follow the instructions and notes in the safety data sheets and technical data sheets.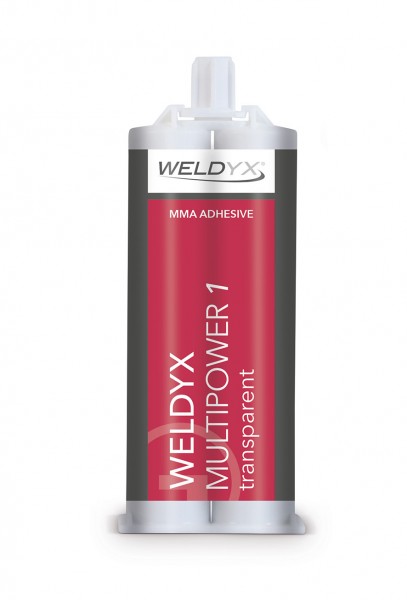 WELDYX MULTI POWER 1 TRANSPARENT is a fast-curing two- component acrylic adhesive with a...
more
WELDYX MULTI POWER 1 TRANSPARENT is a fast-curing two-component acrylic adhesive with a mixing ratio of 1:1 allowing to obtain high-quality structural bonds. It provides rigid and high-strength bonds for a wide range of materials.
WELDYX MULTI POWER 1 TRANSPARENT is ideal for bonding transparent plastics. Due to its unique composition, it meets high requirements for assembly and industrial applications. It can also be used for bonding stone, wood, composites, thermoplastics, duroplastics and metals.
Properties
For high-strength and rigid bonding of plastics, especially PMMA
Combines fast curing (fixing time approx. 3 min) with high elasticity
Fast curing at room temperature
Excellent resistance to media
Thixotropic properties
Minimum need for surface treatment or priming for most metals
Easy application even on uneven surfaces
Ideal for applications where visual aesthetics are important
Outstanding resistance to material fatigue, shock and mechanical factors
Excellent finishing properties in case of grinding, drilling and painting
Product features
| | |
| --- | --- |
| Type: | Adhesive |
| Configurability: | not configurable |
| Substrates: | Wood, Rubber / Elastomers, Metals, Plastics, Stone, Glass, Composite / GFK |
| Temperature Resistance (°C): | Up to 120 |
| Shelf Life: | 9 months |
| Adhesive Gap: | Gap-bridging |
| Consistency: | Water resistant, Acid resitant, UV-resistant, Oil resistant, Solvent resistant |
| Processing Time: | Medium (5-15 min) |
| Labelling of hazardous substances: | Other |
| Adhesive Surface: | Selective, Small, Area |
| User: | Professional Users/Qualified Users |
Downloads
By clicking on one of the following download links, you will have access to an external offer of www.sumdat.net, with the help of which you will have access to an extensive media database.